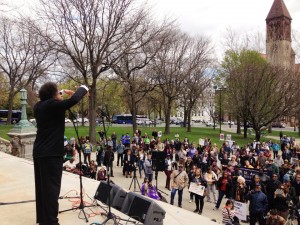 May 5, 2014: NEW YORK AGAINST MASS INCARCERATION, DAY OF ACTION, ALBANY.
Comradeship, exuberance, passion, and determination, together with love for those behind bars, for each other, and for our families and communities, were the fuel that fired up this most amazing and wonderful day of action and protest.
The numbers of people who attended were way beyond anything the anti-incarceration and prisoner justice movement has done in a statewide protest before: over 600 at the rally, with varying numbers at the press conference, lobbying, march, parole speakout, and reception. The geographic representation was stunning: Buffalo, Binghamton, Rochester, Syracuse, Utica, Ithaca, Cortland, North Country, Albany, Kingston, Newburgh, Woodstock, Poughkeepsie, Long Island, and New York City — and more! The breadth of issues included strong excellent speakers on parole reform and the SAFE parole act, releasing elders, ending solitary confinement, ending collateral consequences/post-prison discrimination, creating a truth, justice, and reconciliation commission on the racial impacts of mass incarceration, ending the so-called war on drugs, education in prison, stopping the shackling of pregnant women in prison, and more.Cornel West, fiery and impassioned orator for justice, tied it all together and much more too: talked about the disgrace to this country of imprisonment, poverty, racism, and war, and how they are all connected, and the shame of it in the richest country the world has ever known. Then the crowed were inspired to greater heights by a rapper, a poet, and a singer, and marched off around the Capitol chanting, led by a perky marching band called the Rude Mechanical Orchestra. "Brick by brick, wall by wall, we're gonna free our people, free them all!" "What do we want? Justice! When do we want it? NOW!" echoed off those marble walls.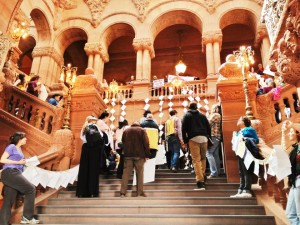 The march led into a parole justice speakout at the Million Dollar Staircase, a vast ornate carved stairway in the Capitol. One person after another spoke about the plight of their loved ones behind bars being unjustly denied parole, while many held up "Missing Posters" with photos of their loved ones who are missing because the parole board has kept them, sometimes for decades, beyond their potential release date.
Throughout the day, teams of grassroots lobbyers, organized and trained by the Campaign Against Isolated Confinement, went to the offices of dozens of legislators armed with – the facts! about solitary confinement as torture, and the HALT Solitary (Humane Alternatives to Long-Term Solitary Confinement) bill currently before the legislature.
There were media interviews and press coverage too, thanks to a very capable media team. Tired and inspired, people from all over the state ended the day with a pizza and networking reception at a nearby church. People rested their tired feet, ate abundant pizza and cookies, and talked with each other about the day and about the many more days which we will need to organize to thoroughly change this rotten criminal justice system.